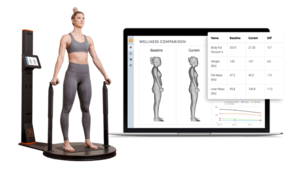 Fit3D Body Scanner
Seeing how your body changes over time is a powerful motivator.

Using the latest technology, Evolved offers a 3D body scanning service to help you monitor and track your progress. Our Fit 3D Scanner provides accurate and comprehensive results that can help take your fitness goals to the next level.

A camera scans and measures over 400 points on your body, and converts them into precise body measurements – in just a 35-second scan. Once the scan is complete, the Fit 3D delivers a report to your phone within minutes, and you can access the scan data in a secure cloud application anytime.